Science Quest Clubs are an awesome way to keep your budding scientist or engineer involved in the fun of science & engineering all year long!
Just like our summer Science Quest camps, our school year clubs are completely student-run with support from the Engineering Society of Queen's University. All of our club programming is based on Queen's University campus in Beamish-Munro Hall- the main engineering building on campus.
Our club sessions are split into two main groups, and are best for kids in grades 4 through 8:
Synapse: our all-girls section
Momentum: our co-ed section
Both groups do super cool hands-on experiments and participate in exciting inquiry-based learning activities and challenges.
Our fantastic instructors are all undergraduate students at Queen's University, in both engineering & science programs, and serve as positive role models to help inspire your child's interest in STEM (science, technology, engineering and mathematics).
Club sessions meet once-twice a month, from September-November, and again from January-March. Sessions will always take place on Saturday afternoons from 1-4 pm, and each session will focus on a different stream of science.
Fall and Winter Sessions have different activities but the same instructors – you can sign up for as many dates as you would like!
Each session costs $20.
Registration is open! See our Clubs Registration tab for more information. Clubs 2017-2018 dates: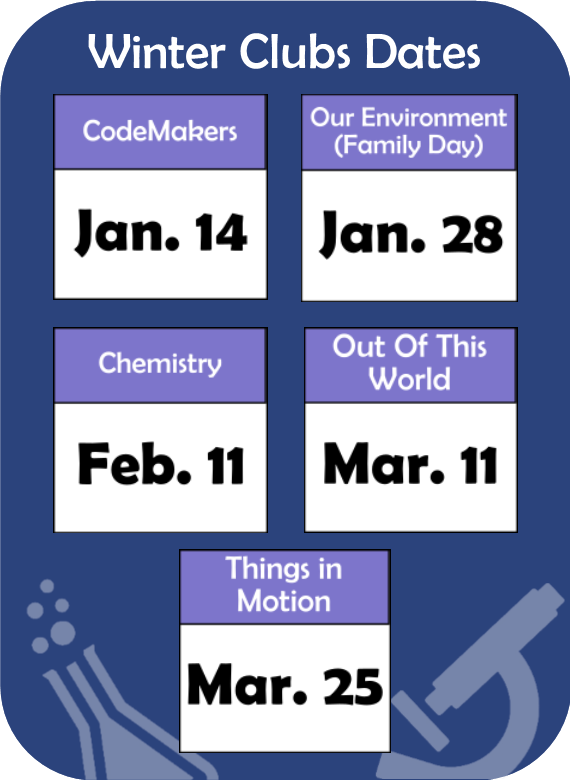 If you are interested in signing up for a single session please email schoolyear@sciencequest.ca
Interested in attending Clubs but worried about money? Click here to apply for our bursary program!